Do you miss our mascot and the whole Thunder era?
We had the best mascot! The BEST LOGO! We were the only team to feature its mascot on the uniform -- on the shorts: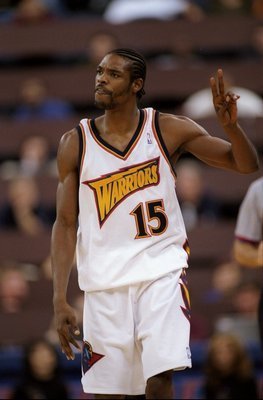 Thunder was part of this franchise for more than 12 years. His likeness was featured on the team's beautiful primary logo... And all of a sudden -- Thunder vanished...
Did he disappear back into the
"sudden cloud burst"
from which he first appeared, as his official team bio, that was in the mascot section of the Warriors website used to say (
www.nba.com/warriors/mascot/meet_thunder.html
)?
I hate Oklahoma City!! Because the city's NBA franchise stole the name Thunder and forced the Dubs to remove the moniker from our beloved mascot. I gritted my teeth in frustration. Ask any (ex)-Sonics fan in Seattle, and they'll tell you that owner Clay Bennett hijacked the team with the sole purpose of moving it to OKC. But on top of that, he named his new Oklahoma City franchise after Golden State's mascot? Was Bennett trying to alienate the entire western seaboard? I'm still baffled, to say the least...
(Photo: Joe Ciolli)
The only place Thunder still has is on the wall above the practice court (top left). I miss him like hell...
P.S.
A good read on whatever happened to our mascot:
http://peninsulapress.com/2011/01/03/Thunder-Enlightening-whatever-happened-to-the-Golden-State-Warriors-mascot/