Discuss anything related to Golden State Warriors basketball here
Moderators: Mr. Crackerz, JREED, Guybrush, 32
Ringo wrote:Would Curry have played this well if Monta Ellis was still here?
Hell no. As hard as Monta plays, his head is just too damn big for his own damn good. He'd be reluctant as hell to relinquish the reigns of the team. The dude plays his heart out for us, and I'll love him for that, but he needs to realize that he doesn't play a lick of D and that the best role for him is a 6th man of the year type role like JR Smith and Crawford. But nah, he thinks "Monta Ellis have it all." I understand you have to have confidence, but this dude compared himself to Dwayne Wade.
Aaaand that'll do it: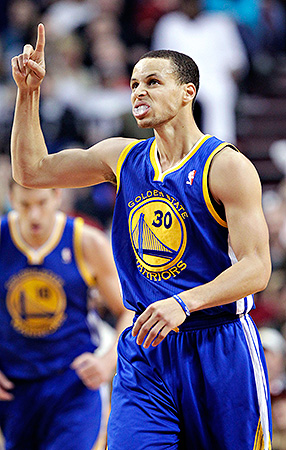 AP Photo/Don Ryan
Stephen Curry is now No. 1 when it comes to 3-point shooting in a season. He sank his 270th in the second quarter of the win over Portland. Curry added two more 3s to finish with 272. Ray Allen's mark of 269 was set in 2005-06.
8th ave wrote:I can't believe that the "human torch" is catching on...

It's not catching on. Bob Fitzgerald is shoving it down our throats like Vince McMahon trying to convince WWE fans that John Cena is a wrestler and not a body-builder... Or girls are trying to convince us that because he's funny on SNL, we should be buying Justin Timberlake CDs... Or ESPN trying to brainwash America into believing the Yankees-Red Sox rivalry is the most storied in all of sports...

Just because the press hammers it into you doesn't make it true. I literally CRINGE everytime Bob says "THE TORCH"... As if we're past that introductory stage where we need to spell out "the human torch," because the homies in the dive bar already know, so we're just gonna call him "torch," as if the nickname has caught on with anybody besides co-hosts of the Fitz-an-Brooks show.

Maybe turning Bob's lame catch phrases into a drinking game would help. A shot for everytime he says the following:

- Any variation of human torch

- "Skill ball" instead of "small ball"

- "Hitch-in-his-get-along" (as if going to college in Indiana makes him any sort of redneck)

- Giggling about how we're getting screwed by the refs, in an impartial game, followed by an uncomfortable bridge back to sanity by Jim, followed by a cranky disagreeable douche bag remark from Bob, stomped out by Jim, then 5 solid seconds of silence.

- "The Book of Barnett"

- "The Warriors didn't lose tonight; they got beat."

- "<insert official's full name> just missed that call (followed by a fictitious story about how bad the ref will feel when he watches it at halftime).

- Chummy reference to "our friends" Kruk and Kuip, as if they talk regularly, while Kruk and Kuip NEVER refer to Bob when promo'ing Warriors games.

- Referring to a defender taking a charge as a "bowling pin."

- Whining at how the opposing front court never vacates the lane while COMPLETELY turning the other way when Bogut spends an entire offensive possession in the paint.

- Withdrawing from picking apart Warrior flaws by assigning God-like status to the other team (ie, "The Spurs are just too good,").

- Backstabbing a former Warrior whose nuts he used to swing on by acting like there's a big, obvious flaw that they've had all along ("Look, we KNOW Richardson can hit from the corner... How about running him off the line and making him go left??")

- "From 'We Believe' to 'We Belong'!!"

I guess I could go on, but I'm legit starting to get upset and it's not even noon yet...
Most commentators have sentences that they repeat in every broadcast. It's just that you have to listen to Bob most often.

And when you are covering one team, and you are allowed to cheer for that team during the broadcast, then homerism is expected, if not granted. So, I don't take it as something bad usually, sometimes it can be a bit annoying, but nothing that would make me upset.

From my perspective, being all the way here, I like it when commentator is cheering for his team, almost as saying "us", like "we just got robbed by the refs", it makes me feel more present, closer to the team...or something in that manner.
Who is online
Users browsing this forum: No registered users and 10 guests
Back to Top