I have to give countries with very high numbers of atheists their props. They are the most peaceful countries in the world. Low crime rates, generally peaceful to other nations, and more than anything, they have a very high standard of living. Here is the list of the top nine most atheist/agnostic nations in the world...
http://www.adherents.com/largecom/com_atheist.html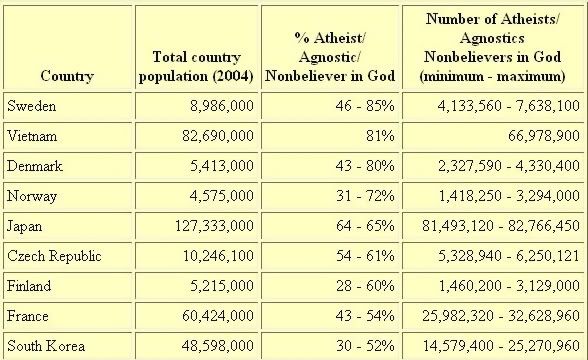 All these nations have high standards of living and a crime rate religious countries would die for, such as the United States, lol. This seems to fly in the face of people who say you NEED RELIGION in order to make you a better person. Proof is seen in another website that has found that countries with a high atheist/agnostic population tend to have lower poverty rates, crime rates, and gender equality than religious countries, as well as low homicide rates.
http://www.gadling.com/2007/08/23/least-religious-countries/